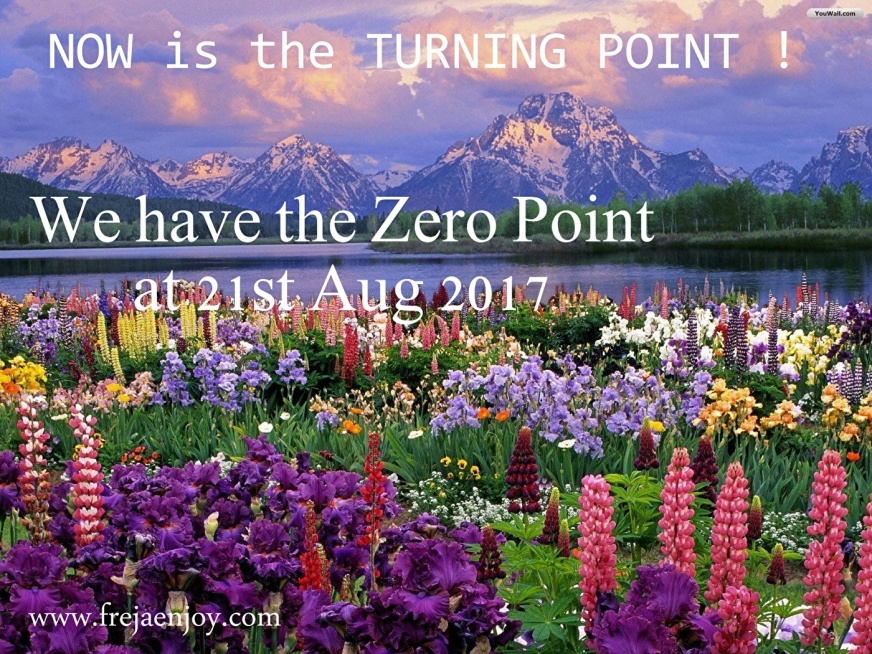 ~ This Is T H E ~ T- U- -R- N- I- N- G ~ P- O- I- N- T ~

by Freja Enjoy



You who walked over in 5d and higher ascension now, can create your own reality and stop being adversely affected by these dark structures. For this, it has been for many, many years now in 3d and 4d, now it turns, we are now at the turning point.

The growth in humanity has now grown to a level where it is possible to proceed if they choose this. However, there are those who can choose how they see their realities and they are master of their realities.

~ T U R N I N G P O I N T ~ is coming now and this is
~ M O M E N T U M ~ T U R N I N G P O I N T ~ 21/8, 2017,
we now come in to.

It's important to see the strategies from the old matrix, 3d, there are those who want people to be stuck in their living patterns and feel powerless They themselves want to continue to take and have the power over humanity. You have these structures around you, you can find that there are not really many choices among all the different business you have to trade in, it's often the same owner basically. There are those who set up this game, where people play out each other in these different structures, as you do in chess.


You who walked over in 5d and higher ascension now, can create your own reality and stop being adversely affected by these dark structures. For this, it has been for many, many years now in 3d and 4d, now it turns, we are now at the turning point. There have been many who saw this, but these rainbow warriors have now constructed new realities on earth from 6d, and then easily in 5d this goes into 4d and 3d as well. These new patterns are lighter and the feelings easier.

The growth in humanity has now grown to a level where it is possible to proceed if they choose this. However, there are those who can choose how they see their realities and they are master of their realities. They are true architects of their realities, and now they can harvest their work that has … which has been ongoing for so many years. These rainbow warriors usually work alone, they are not traditional teachers who talk about how to do, they do not give orders as leaders traditionally done; it is up to you to see them and perceive their messages when they are released.


21/8, 2017 and the 0 point ~ T U R N I N G P O I N T ~ is now here.

This rainbow warriors, they can not be tricked more, they can not be replaced they are completely unique.
You can not control an angel on earth. They have admitted the dark for so long, because they knew why they had to, so if you don`t mind me saying like this… now is the time … you acknowledge the fool and go out of the game. The dark ones stick to their dark games into the last! They will try with their old strategic patterns time after time, because this has worked out in time, not now anymore. They will try to use the darkest strategies, so that those in 3d will continue to be in their power.
In 5d this does not work and as I already pointed out in 21/8, 2017 this is 0 point ~ Z E R O P O I N T ~
~ T O T A L S O L A R E C L I P S E ~
~ T H E T I M E I S N O W ~

Even those who sleep in 3d will feel this.

Namastè XOXOXO LOL FREJA
2017-08-20

Freja Enjoy.
Ascensionguide, wayshower, forrunner, greatstarnation.

© freja enjoy 2017