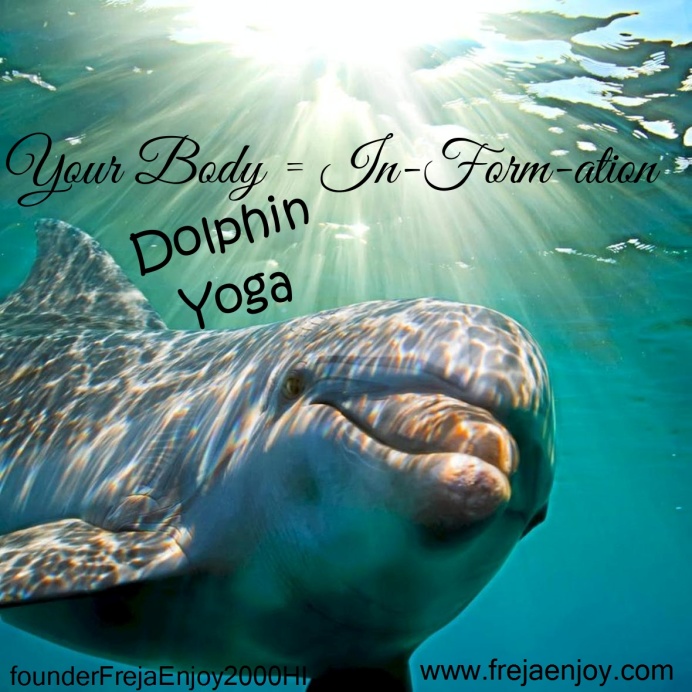 DOLPHIN YOGA - HI2000
All about
In - Form - ation

by Freja Enjoy


Dear light family! <3 … Dear beautiful physical hu …man <3 being now on Mother Earth! ~ You are so Beautiful ! Has anyone thought about this about ascension? ~ there are so many details and so many aspects to talk about ~ I feel the need to clarify some here ~ but right now I just want to point out that you are an awareness/ consciousness ! And as this consciousness, you are now on earth this planet, and you live here and now, because you have "a holy temple" = you...r physical body. Your physical body has a huge amount of information, ... or more clearly, your physical body is information. When you go into an ascension process, this is important to distinguish, your consciousness = you, and "your holy temple" = your physical body, Are in two completely different processes.

As a human being, you are a LIFE, this life consists of 1 / your consciousness & 2 / your physical body. Not either or. Dear you think this sounds like something unnecessary to point out, but think about how to think when your consciousness is far, far ahead of the process your physical body needs to be in, and actually need to go through? This is what I have in my DNA to perform in my Dolphin Yoga, which is merely a name of a higher logic system that I have been designed to channel. I work with angels and dolphins, briefly, in this work. If only one of you dear Ones/readers here would be helped by the information I give out here, this is worth the effort.

Right now I wanted to tell you this and I intend to return to this subject, I'm listening to my body now ... and saying I can not promise anything I will do what is the divine will and the divine service I do, and yes, I have my will but as I said befor I do cooperate with other consciousness, angels & dolphins… as you know all this is just words, more or less, but they also are symbols for something… things change and happening lightning fast now ... But one thing I want… One thing I want to emphasize right now is - allow your physical body to feel just as it does - do not judge your physical body - love it always ! You may be very aware, but your body may need to take it slowly, maybe not at all, as your mind imagined .... this is 100% in order - divine order - this is ascension in detail ... live well Beloved One, you are wonderful and life is wonderful -

And I would like to add that for me the content is most important in my messages, so it seems to me from time to time that that I'm making a typo that I do not have time to fix this and I do not have time either when I work this way I do … either Here to sit and choose nice fonts or good presentation methods - I just want to give what matters to me as most important that I feel someone would benefit from gettin` info about… when this happens. If anyone feels disturbed by this, sorry, love me for who I am or stop reading, I love you whatever you choose. Take good care I do Love you Dear One Blessings

NAMASTÈ Freja <3
2017-08-20

Freja Enjoy
founder of Dolphin Yoga HI2000 FiveStarsProgramTM

© frejaenjoy2017

Wonderful Dolphin Yoga Exercise -
Happy News: Start your Day with a challenge!
by Freja Enjoy 25/9, 2017


One step in one direction you want to go! A direction that makes you happy! You decide! Write a list of things that made you happy. & take one of these things and take a single step - maybe this will take only 15 minutes, try & you'll see you have a wonderful day! Blessings Freja! & my little step, a giant step at the same time today is that I've been out in the dark and ran - the first time I've been able to run for many years. My Dolphin Yoga has helped me transform myself & my body who had problems before - I Am so very GRATEFUL!

I am so very happy!
Blessings Freja!

At 05:30am Monday morning 25/9, 2017.


Donation - Donation that you choose the amount of.
Price:
$0
SKU:
000123XO123
Quantity:
You are welcome to contribute a donation to my work as an ascension guide and all other invisible work I do 24 hours a day and 7 days a week. I thank you in advance. Blessing Freja Enjoy

How you can donate :You can choose the amount you can give, your gift based on your condition, you choose the size of the amount you donate, yourself.

Thank you for considering a donation to FrejaEnjoy.com and my/our, work.

Freja Enjoy and crew at www.FrejaEnjoy.com
Light family of truth and fierce love power