SINGING IN THE CROWNS OF THE TREES

poem by Freja Enjoy
WolfEye Dances with Dolphins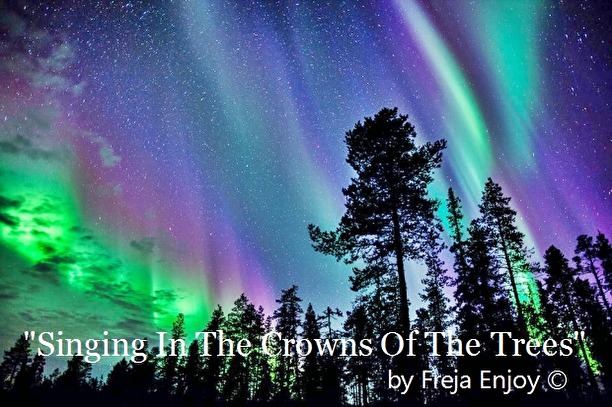 Singing In The Crowns Of The Trees
By Freja Enjoy


Come Dancing with me said The Ocean,
The Wind and
Even The Trees,
for you have Always been One With Us,
You have won the biggest gift -
Your Voice Is Heard Far Around,
Far And Beyond -
In The Wind My Dear,
In The Waves Of The Ocean My Dear,
In The Tribes Of The Trees -
All the poems you wrote over the years,
that were taken from you,

They Sing Now In The Crowns Of The Trees -

They Sing Together With You My Dear Loved One
This Is The Most Beautiful Love Song That Ever Was -
Sing Your Praise To The Greatest Truth And Love -
You Know Where It Is !


Poem by Freja Enjoy, WolfEye Dances with Dolphins


© frejaenjoy2017



By WolfEye Dances with Dolphins, Freja Enjoy, who did write this poem in joy and also in tears for all the poems that were taken from her, that was written since the 1970s.
One place Freja have been and performing her poetry live is at Lomma Beach Estrad, in southern Sweden, to name a very popular place where she has been presenting her poetry live.

Donation - Donation that you choose the amount of.
Price:
$0
SKU:
000123XO123
Quantity:
You are welcome to contribute a donation to my work as an ascension guide and all other invisible work I do 24 hours a day and 7 days a week. I thank you in advance. Blessing Freja Enjoy

How you can donate :You can choose the amount you can give, your gift based on your condition, you choose the size of the amount you donate, yourself.

Thank you for considering a donation to FrejaEnjoy.com and my/our, work.

Freja Enjoy and crew at www.FrejaEnjoy.com
Light family of truth and fierce love power